Issue # 12
good things on a Monday
Happy Monday, friends.

Welcome to a new week! In the last issue, we addressed some serious topics about race and policing in America, and my hope is that it landed well and we can all continue the project of learning about systemic racism. With that goal in mind, this newsletter will continue that effort, hopefully in a way that leaves you feeling challenged, determined, and hopeful.
Without further ado, keep scrolling for some good things!
---
Good Things
This week's things are practically all brought to you from my good friend Cris, who's bakery is back open and if you're near Charlotte, you're crazy if you haven't tried out what she's got going on! Be forewarned: if you send me great and hilarious things via text, there's a 100% chance that those things will show up in the newsletter. It's similar to how you should always watch how you act around writers, because we love to make characters and scenes based on our everyday encounters. (Or just me?)
Scrolling through tweets non-stop is a great way to make you want to put your head in the wall, unless you're delving into the tweets from security guard Tim Send over in OKC. The National Cowboy and Western Heritage Museum put the head of their security in charge of their Twitter account while the museum is (was) closed due to the pandemic. Tim has gained a bit of fame for his adorable social media usage, including a sign-off at the end of every tweet that says "thanks, Tim." Scroll further back and you'll find the beginnings of his social media journey, where he began to understand hashtags and google.
He reminds me of all of us when we first started out on the journey of social media back in the day. When we just threw our honest thoughts and ideas out there without everything being so curated. I can't be the only one who cringes when I see old statuses and posts, but looking at it through Tim's lens, I guess I see it as more innocent and fun than serious. We could probably all stand to be a little bit more like Tim!
(He also posted the following tweet this past week, on a day that many white people like myself made a point to be silent on social media in order to listen to and center Black voices in the conversation about race in America. Thank you for this, Tim.)
This next thing is really more of a commiseration point than a product promo, since I haven't tried this myself. This morning I found myself googling "how to prevent Underboob sweat" because yes, that is a real thing that drives many of us crazy over the summer. Not one hour later, Cris messaged me with this: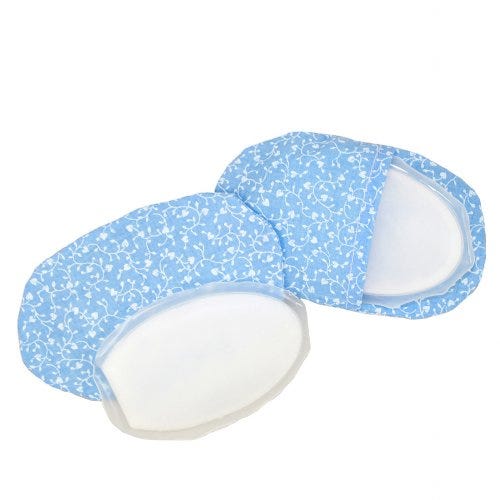 *Image Credit: Twenty Two Words
That's right. It's exactly what it looks like. Little cool packs that you freeze and then pop in your bra in the summer. My first guess is that Cris is actively monitoring my computer activity. The marketing teams behind targeted ads on Instagram have nothing on her.
If this is a problem for you too, it looks like you can grab it from this company. I know nothing about them and can't vouch for them. But in the words of my brothers, "I can easily MAKE that for you." (Which is what they say about anything I want to buy.) I'm thinking some water in a snack-size ziplock bag, frozen and popped into a thin sock. And if your boobs look lumpy, who cares! It's not like we're doing social things anyway (OR WE SHOULDN'T BE) so live your best cool/lumpy life and avoid Underboob chafing this summer.
In this week's category of "Things Pasan Finds Hilarious," this TikTok has been playing on repeat on his laptop and he's been laughing for maybe 10 minutes straight. And like I always say, he's a square who is very picky with his comedy. Give it a view and see if you agree with his tastes.
---
Good Businesses
Money talks, and a great way to show support is to put your money where your mouth is. Here are two companies run by Black women that I'm obsessed with (both the companies AND the women themselves.)
I'm so obsessed with this one that I wrote about it on the site a while back. (Caroline came up with the catchy title.) The Honey Pot was founded by Bea Dixon and sells plant-based feminine care. Did you know that herbs are what your vajeen has been missing? Bea did, and she's absolutely crushed this. I'm a cup user (which she now sells too!) But I like having her products on hand for times when I'd just rather use an herbal liner. I'm all for products that are biodegradable and don't contain harmful ingredients. She has post-natal products that I only *wish* I knew about when I was recovering from childbirth.
W&B founder Justine has made it her mission in life to make sure that every woman knows that she's both worthy and a badass. Her story is amazing, and she's an inspiring powerhouse who's constantly putting out great work. I've ordered some of her keychains which have been big hits as gifts and for myself. Just when I thought I'd decided on a few jewelry items to order, she started releasing products for the crazy plant lady in me! She's got great products and fantastic customer service.
Both of these businesses make great gifts, and sending little things is a nice way to let someone know you're thinking of them when you may be separated by miles (or just walls.) Know someone who's having a baby soon? Send them a care package of recovery products! And I've sent this keychain to Schitt's Creek fans two times and now I feel like I need it for myself. It's called self-care, people, and this feels like the right way to do it.
By the way, these aren't sponsored. They're just great women doing great things and I want everyone to know about it.
---
Good Things to Read*
*Originally titled "Good Reads", but I didn't want Goodreads to come for me.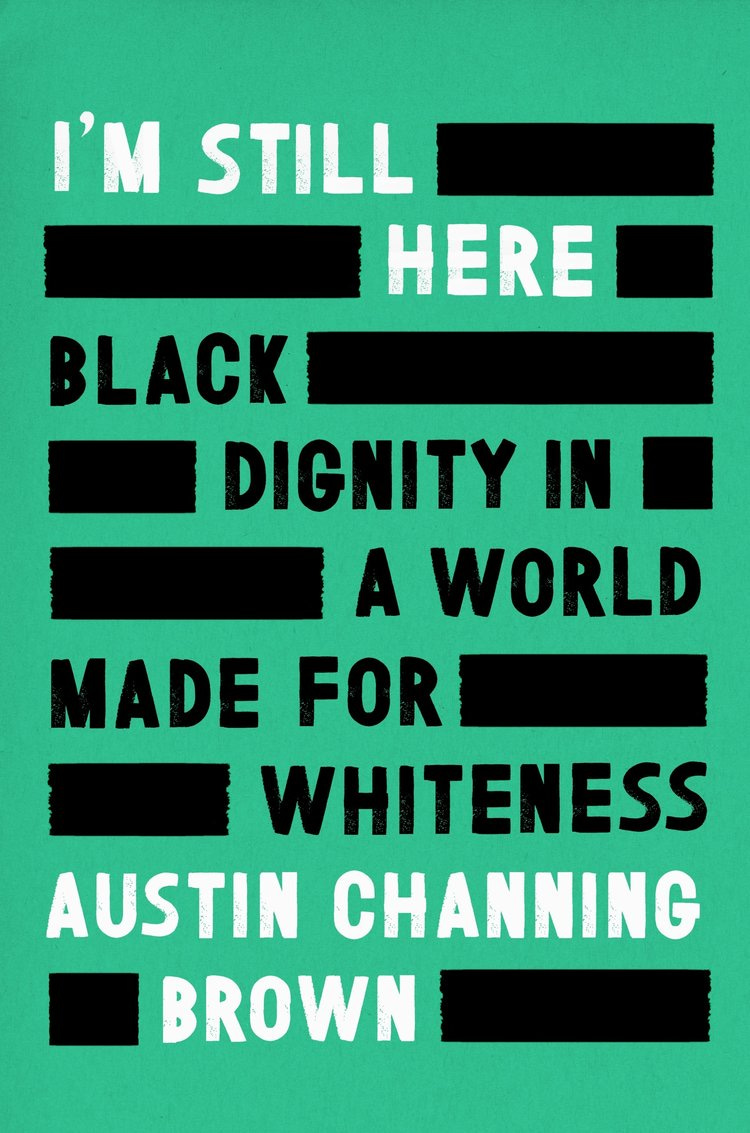 Image Credit: Austin Channing Brown
Last week, I snagged my husband's Audible credits for the month of June and downloaded I'm Still Here: Black Dignity in a World Made for Whiteness by Austin Channing Brown. I flew through it during a road trip to and from South Carolina, and it truly opened my eyes and taught me so much about micro aggressions that affect the Black community. Any white person should read this book, but if you were raised in Church and/or are involved in a Church now, I truly think this book will hit home in a different way.
After I got this book through Audible, I found so many resources for shopping from Black-owned booksellers and I highly recommend going that route for this and other books. Shelves Bookstore is owned by Abbi, who lives in Charlotte and started Shelves to spread the book love to people everywhere. Shelves has a few different shipping options for locals that make delivery free, but ships to non-local addresses as well. Austin Channing Brown also links to this page to support Black-owned bookstores.
Next up on my to-reads list:
I'm Not Dying With You Tonight, by Kimberly Jones and Gilly Segal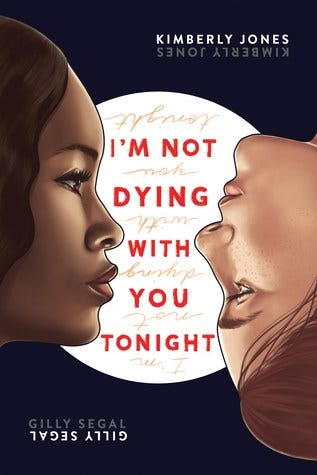 *Image Credit: Goodreads
Kimberly Jones is the powerhouse behind this video that you may have seen going around:
If you haven't watched, I highly encourage you to do so and then read more from Kimberly on her website and Twitter. This video was extremely educational to me. Her passion and power are impossible to look away from. Her usage of Monopoly to explain why everyone can't just pull themselves up by their bootstraps and be equal was really eye-opening, and she explains wealth and economics like I've never heard it before.
After watching her video, I came across this thread which rounds up many of the places in our country where Black people set up their lives after the Civil War, amassed wealth and a livelihood, and were then violently destroyed by white people. It's also a must-read:
It is a GOOD THING to learn, friends.
---
And that's our show for this week! I had high hopes of having new content over at Good Idea Girls, but it's felt more important to learn from others rather than speak my own voice this last week. I have some pieces planned for the near future about voting and mean girls (separately), so keep an eye out for that! If you haven't checked us out over there, be sure to browse around and also catch up with any podcast episodes you've missed while we're on our summer break!
If you enjoy receiving this email, I'd love if you shared it with a friend! If you have feedback, I'm happy to hear it. Shoot me an email at hannah@goodideagirls.com, or find me on Instagram @hannahpremaratne.
See you next week!