Discover more from Good Things
A letter about good things, from me to you.
Issue # 11
good (and serious) things on a Monday
Hi friends, I'm so happy to have you here today. Thank you for subscribing, and I hope this newsletter gives you some sense of balance in the world and brings a bit of a relief when it feels like everything is dark.

Part of finding that balance is refusing to stick our heads in the sand, and for that reason I will be addressing a serious thing today. There will be no graphic violence discussed, and my hope is that it will end with the encouragement and empowerment of solid steps we can take.
After the serious thing, we'll pull in some goodness and some levity. Mental health is very important, and to survive in this world and to address important issues we have to honor our feelings. We (my white friends!) have to wake up and be enraged and engaged, and recognize and sit with the low points. But we can't stop there, and sometimes we need a boost to get back up to the top of the wave. My hope is that this newsletter can help you get there.
Keep scrolling!
---
A Serious Thing
This is not the place for breaking news, and this won't be the first time in the last several days that you're seeing news about injustice. A week ago today, a crime was committed by an officer of the law that ignited protests across the country. This isn't the first time even in the last few weeks that black life has been taken unjustly by officers of the law or those purporting to act on behalf of the law.
The thing is, from birth we're taught to be patriotic. And the message is that in order to be patriotic, you support America and her systems 100%, without question. You respect police, you respect and pray for the president. We are *not* taught to critically think about those systems and ask ourselves when and why they started. We're not given a comprehensive view of our history as a country, and our story is so so vast that we have to take a closer look.
Lies My Teacher Told Me is a book that was recommended to me by my high school history teacher friend, and it should be required reading for people of all ages. (Although there is apparently a more student-friendly version recommended for ages 12-18.)
The book starts out with the real story behind Woodrow Wilson and his presidency. He's hailed as the president who gave women the right to vote. But in reality, he was very anti-women's suffrage (and so was his wife.) He only changed his stance when it became clear that it was the smart political move to make.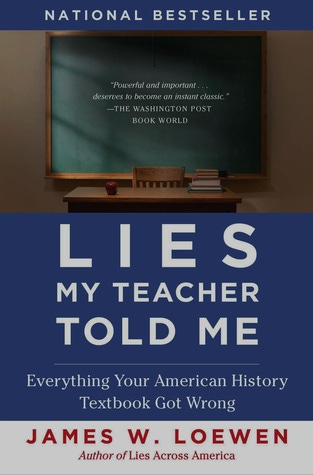 That floored me. That single fact means that we have to go back to the beginning and look at all of it through a different lens. Not to question our patriotism, but to expand it. Being a patriot means fighting for what you believe is the right way to live in this country, even when the law says it isn't right. Ever seen the movie The Patriot?? Ever heard the of the American Revolution? Those actions were illegal and anti-government. And yet our ancestors decided that they were the right thing to do.
(And wait till you guys read about Helen Keller for REAL, and not just her story of overcoming disabilities. She was a straight revolutionary! She became my hero in a whole slew of new ways after I read about her in this book.)
All I'm saying is this: we need to revisit it. We need to understand things like this really important fact: modern policing has roots in slave patrols. And the reason that this is important to know is because when you understand the roots of something, you start to see how it fulfills that original purpose. This is not to condemn every police officer or say "all cops are bad cops." But it is to me a matter of great importance as we ask ourselves "should an organization that was formed to control and contain black lives through violence be given carte blanche to enforce laws using deadly weapons on a daily basis in our streets?"
(Also, my question to the good cops has always been this: why are you silent? Why are you not making change from the inside? I've never understood why police, who are humans just like the rest of us, are supposed to be somehow above the law. When a teacher or a doctor does something illegal, you don't see their colleagues rising up in anger against the complaints, or stickers plastered over cars that beg us to please give people of that profession a pass because they're out there serving other humans on a daily basis. And in fairness, I have seen a few reports of police joining protests in some cities. I've also seen very much footage of police violently attacking protestors who were committing no crimes.)
Here's what I want us to consider: history is written by the winners. And the winners for the last several hundred years have been Europeans and descendants of Europeans. Where are the chapters in our textbooks from the perspectives of Indigenous people, from Africans, from families descended from slaves, from South Asians, from Latin American countries who are still feeling the negative effects of President Wilson's decisions.
Find those histories and read those stories. They matter, and they're very important in this discussion. We (white people, white friends, white family) need to learn. I'm not even asking you to change your opinion yet. I'm just asking us all to read and learn and listen and make educated decisions.
Last year, the 1619 Project began investigating the legacy of slavery in America:
1619 is not a year that most Americans know as a notable date in our country's history. Those who do are at most a tiny fraction of those who can tell you that 1776 is the year of our nation's birth. What if, however, we were to tell you that the moment that the country's defining contradictions first came into the world was in late August of 1619? That was when a ship arrived at Point Comfort in the British colony of Virginia, bearing a cargo of 20 to 30 enslaved Africans. Their arrival inaugurated a barbaric system of chattel slavery that would last for the next 250 years. This is sometimes referred to as the country's original sin, but it is more than that: It is the country's very origin.

-The 1619 Project
Please follow the link and read and explore and listen. Just start with listening.
Then read this piece over at HuffPost from Candace Howze, and hear her story and follow her links.
If after that, or maybe before that, you're looking for ways to fight back against injustice and to promote equality, look to where your help is needed. There are organizations that need funds for legal aid. The Minnesota Freedom Fund is a good place to start. We've made donations to this project and to local projects in Charlotte who are helping to provide bail money for protestors. However, check out what the activists have to say about donations because places of need are always popping up, and there are people much better placed than I to point us in the right direction.
Also, start conversations. Don't be afraid to be wrong. Talk to your family and your friends and ask what they're reading or what they think of all this. Importantly, do not bombard your black friends or DM black activists. Many people have already done the work and provided excellent resources to help us understand their experience in this world. Here are a few good places to start:
Layla F. Saad has a book called "Me and White Supremacy" and a podcast called Good Ancestor.
Rachel Cargle has a series called The Great Unlearn. Check it out, especially the post entitled "Your Heroes are not My Heroes."
DeRay McKesson is an author, activist, and host of a podcast called Pod Save the People, where I've learned quite a lot about social justice.
This is a serious beginning to Good Things, but I know that we want goodness for everyone, and it's not enough to just wish that. We have to actively pursue it and work to root out the underlying causes of discrimination around us. We CAN do it, and we MUST do it.
*Note - sometimes I use affiliate links when recommending a product, but to the best of my knowledge I haven't done that for any of the books listed above because it seems in bad taste. I'm relatively new to the affiliate world, so if I've made a mistake, please forgive me! Also, make sure to get the version of Lies My Teacher Told Me published in 2007. There's updated content relating to 9/11 and the Iraq War.
---
Good Things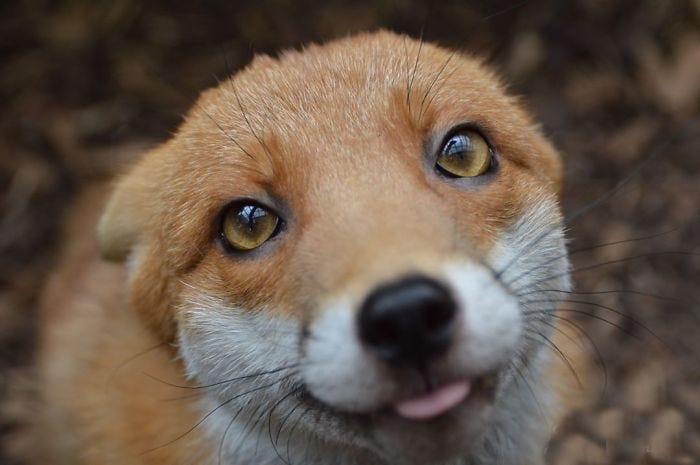 Now, here's an adorable fox face.
My dad sent me this link to photos of foxes, and naturally I now want to hide out in the woods and befriend all the little furry foxes immediately. He also sent me this adorable video below, because he grew up with Boston Terriers and then we had one growing up as well. I'm currently pressuring my parents to find and adopt another little boston that needs a home.
My dad is a chaplain, and he shares a weekly Chaplain Check-in video. I'm (naturally) a bit biased but I recommend subscribing to his videos to get a short message full of meaning each week. This week's video is called "Life's Big Questions" and I know that hits home for all of us these days.
---
Looking for a way to re-use some of the clothes you've got lying around?
This YouTuber upcycles a big sweatshirt into a set that is quite trendy right now. And surely we all have a huge sweatshirt lying around - fitted sweatshirts are just not as comfortable and that's a scientific fact. About once a month, I start to think that I'm a DIY-er and take on a project that (it turns out) I'm not prepared for. I actually think I could do this one though, so we'll see what happens.
---
Things to Read
Supporting social justice can look like aiming to support mainly (or only) black-owned businesses. When you're getting take-out, shopping online, or planning your entertainment, look to see if you can support black owners, creators, or authors! Here's a short roundup from Epic Reads:
Call a local bookstore and ask them to order (or pre-order) these books, or call your library and ask them the same thing. Unfortunately I'm maxed out on Kindle holds at the moment, so I'll need to finish a few books so I can free up some space on the ol' library card. Currently reading: Children of Virtue and Vengeance, the sequel to Children of Blood and Bone by the brilliant Tomi Adeyemi.
Buzzfeed has also compiled a list to grace our e-readers this summer, and many of these authors are people of color. Reading books written by people who don't have your same experience in life is a great way to peek into the mind of someone else and get a feel for their reality. I've found that I learn so much even though I rarely read fiction based around politics, which just goes to show that race and culture do not need to be politically divisive issues and we don't need to allow that narrative to continue.
---
Final thoughts for this week's issue, as we've seen a weekend full of protest and emotion and video of people all over the country standing up for black lives. If you're concerned about the destruction of property, I certainly hope you're MORE concerned over the loss of life, and are begging for THAT to end as well. (I also hope you're digging into the fact that many images show white faces looting and breaking glass, while black voices call for peace and an end to the aggression.)
I'll leave you with this article from the Charlotte Agenda, a publication about our city and by our citizens. I had no idea about this history behind my state, but I'm sickened and not surprised. My words and feelings aren't enough though, and we have to work to do better.
Why Minneapolis Matters Everywhere, Yes Even Charlotte, by Michael Graff
---
This issue of good things has gone in a bit of a serious direction, but I felt it was important. If you agree, I hope you'll consider sharing us with a friend! We leave good things in your inbox every Monday morning to help even out the influx of craziness coming at you from every direction.
You can find more things over at Good Idea Girls, and catch up on our podcast while we're on a summer sabbatical.
If you're a member of a minority community and feel that I've gotten something wrong here or left something out, or have any feedback, please don't hesitate to reach out. My email is hannah@goodideagirls.com. I'm always trying to learn.