Issue # 14
Good Things on a Monday
Hello Hello!

It has been a little while since our last issue of Good Things, and you might be thinking that I'd forgotten about it.
Well, you're right. I did forget.
We've spent the last month moving into a new house, and I publicly swear that the next time I move, it will be into a casket. These hands will not pack another box in this lifetime.
In fairness to the newsletter and all of you, I did actually remember quite frequently, but then it left my mind almost as quickly as it entered. So I've made notes here and there with a few Good Things to share. Read on!
---
The Good, Hard Things
Imagine it: a beach vacation, relaxing sand, warm sun, and you sit in the shallows to cool off in the water. The tide is coming in, so the ocean water is up to your waist and slowly getting higher. You decide you want to dry off, but a wave hits, knocking you backwards. You catch yourself on your elbows, and push yourself back up to a seated position but can't move any farther in your aim to stand up before another wave hits. The cycle repeats. Another wave. Another. You're stuck trying to get your footing in what will probably (hopefully) be a funny story to tell later.
That's what this year feels like, doesn't it? For some of us, the tragedies have hit close to home in one way or another. And it is so so difficult to keep trying to stand up.
Moving is hard, a pandemic is hard, convincing the general public to act in everyone's best interest is hard, and facing our own prejudices is hard.
But stick with it, fam! Glennon Doyle always says "we can do hard things" and I think about that quote often. More on that below.
Let's break it down. First of all, it's a privilege that we even get to take a beach vacation! (Yes, that's both a metaphor and literal. The beach stands for living in whiteness and the waves are every world event in 2020, starting with Tiger King when we realized that zoos need a much closer look. I kid, sort of. The beach also stands for a real vacation which I am dying to go on but don't want to be exposed to Covid and also cannot afford it because buying a house, another privilege, breaks you.)
If the consistent stress of injustice is new to you, if the waves have just started crashing, imagine if you were born into them. If you could relax before now, and are having a hard time with the constant crash of new negative events (and you are NOT alone in that feeling, by the way), tap into the energy of all the people who have come before and fought their whole lives for justice and keep going! You can do hard things, and we have to learn resilience. It's not an easy lesson to learn, and I feel like I re-learn it every single day.
I know it's really hard for all of us right now, whatever our individual situation may be. It's hard to get up and put on a mask again, it's hard to be around all of our family members 24/7 again (even being grateful for the time that we have together! It's still hard! You can be grateful and recognize the difficulty at the same time.) It's hard to worry about illness and worry about politics. But we can do it, friends. Let's not get complacent just because it's more comfortable.
With that in mind, I've found some fantastic learning resources in the past month that I'm excited to pass along, and I hope you'll consider following these women and supporting their work.
Daily actions to dismantle white supremacy, from Nicole Cardoza. Speaking of "doing,"action is one thing that helps me to fight the consistent negativity when it feels like the world is too much. Nicole Cardoza has put together a newsletter with daily tasks to fight racism outwardly and inwardly, and articles to teach and enlighten.
America Did What?! is a new podcast from Historian Blair Imani and Writer/Comedian Kate Robards. Each episode delves into an "outrageous thing that America has done, backed by research." I thought I knew all about redlining, but episode 1 really threw me for a loop. I knew nothing about the GI Bill and still learned way more about redlining. So I can't wait to get into episode 2! New episodes are out on Saturdays.
I've truly learned so much from these women in the last two months, and I know that that will continue into the future. I've started supporting them on Patreon (you can find Nicole here, and Blair and Kate from America Did What?! here.) If you can, I highly suggest that you consider financially supporting whomever you learn from if you're receiving the work for free. It's never free to produce content, and delving into your own experiences of and history with racism in order to educate others about how to NOT be racist is such heavy work.
---
Good Things in your Ear Buds
That felt like a weird title but we're going to move right on past it. If you happen to get any alone time and are looking for a podcast to fill the quiet, I recommend the series on Stonewall from American History Tellers.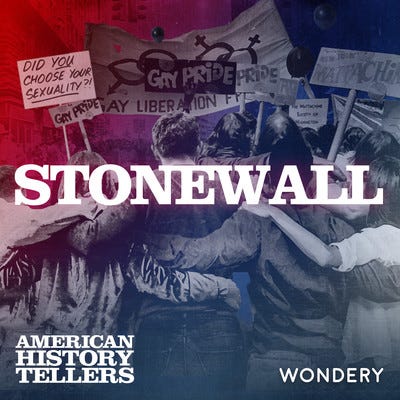 Image: Wondery
If you're unfamiliar with American History Tellers but like history, you have to check out this pod! It's history lessons from a story perspective in multi-episode format. So you can listen to a whole subject in a few episodes and take a break or go back for more. They released a series on Stonewall in June and I'm bingeing it now. It is truly astounding what we don't learn in school about our history as a country, and this particular series about the origins of the LGBTQIA+ Rights Movement and Pride Month is nothing less than fascinating (and heart breaking.)
---
Good Things to Read
I've finally found my way back into good books. Was it just me or was it hard to get into anything at the beginning of quarantine? I guess that means that I'm adjusting to the pandemic as normal, which still seems unbelievable but here we are. All that to say, here's what I've been reading and would recommend:
The Deep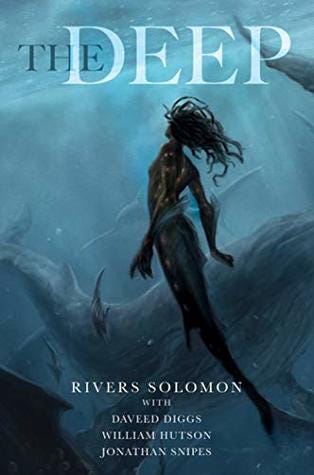 Image: Goodreads
The Deep, by Rivers Solomon, is a literary experiment of sorts. It imagines an alternate reality wherein the pregnant African women who were forced to cross the sea on slave ships and were tossed overboard birthed children who could breathe water. As a new kind of people, the collective memories of their past are kept with only one soul per generation: a historian. But the weight of remembering the history is so heavy that it becomes too much for our protagonist Yetu, who searches for her own identity amidst lifetimes of memories and pain of others.
It made me think a lot about the weight of remembered pain, and what it must be like to live with the knowledge of the pain of your ancestors. It's something I can imagine, but not truly understand from my own perspective and experience as a white woman when it comes to the reality of slavery. It's not a very long read, and is great for anyone who likes imaginative fiction, history, learning new things, broadening perspectives, fantasy…really, you should pick up this book if you like to read.
I currently have a kindle full of loans from the library so stay tuned next week for more good things to read. Hopefully some good stuff to watch as well! I've just finished Waco on Netflix, which I *highly* recommend, but is not new and hot off the presses. It was so well done and really eye-opening, and was recommended to me by my brother and my mom. I forgot what happened in real life about the Branch Davidians, and if you have too then I suggest watching the whole series without googling anything. Then go nuts with the Internet and read everything you can, because there is a LOT to unpack there.
---
A Funny Thing
My brother recently introduced me to the biggest laugh I've had in a while, and I keep going back to re-watch and re-laugh. In the rare category of "things that make my husband laugh," this made him lightly chuckle. So take that how you will. The tiktok work of @calebwfrancis is the comedy of my dreams, and my favorites are this one and this one. (This one also; not safe to watch with anyone whom you feel awkward around.) Anyway, I've been laughing over these tiktoks for days and I hope you find a good deep face-cramping laughter as well. It's powerful medicine!
---
That's it for this Monday afternoon version of Good Things. I'm still in the shallow end of the work pool, and slowly working my way to the deep. Moving has calmed a bit, although it seems never-ending at the same time. I feel like I'm in a rhythm with balancing activities for my kids and work for myself, but we all know how that can change by the week.
A newsletter house-keeping item: you'll no longer receive Good Things bright and early Monday morning because my weekends are currently packed with unpacking. Mondays are a good work day though so I can promise to try and get this out on Monday afternoons for now.
Have a great week!