Discover more from Good Things
A letter about good things, from me to you.
Issue # 13
good things on a Monday
Hello and happy Monday!

Good Things is here to bring some content to your inbox that helps you start your week off on the right foot. Positivity, humor, and encouragement in a time when it can seem like everything coming at you is negative.
That isn't to say that the hard or negative things need to be ignored, because a lot of it does need to be given attention. There are many organizations and activists who have valuable information that we need to hear and learn. There are great non-partisan independent news sources who are getting the content to our inboxes that we need to read. (My favorites are The Skimm, Popular Information, and Heated, to name a few.)
As much as I believe in the importance of staying plugged in to the realities of the world, I also know that sometimes we need to take a breath and give our bodies a chance to dose us with serotonin for another boost of energy.
So let's dig into some Good Things!
---
This week marks the celebration of Juneteenth, the holiday that commemorates the day that the last slaves were made aware of the Emancipation Proclamation. News of the freedom of slaves took 2 and a half YEARS to reach Galveston, Texas, and there are a lot of stories about why it took so long. They all revolve around slave-holders wanting to keep their slaves for as long as possible, continuing a tradition of cruelty long after it was deemed illegal.
Juneteenth is the oldest nationally celebrated commemoration of the ending of slavery in the United States.  Dating back to 1865, it was on June 19th that the Union soldiers, led by Major General Gordon Granger, landed at Galveston, Texas with news that the war had ended and that the enslaved were now free. Note that this was two and a half years after President Lincoln's Emancipation Proclamation - which had become official January 1, 1863. The Emancipation Proclamation had little impact on the Texans due to the minimal number of Union troops to enforce the new Executive Order. However, with the surrender of General Lee in April of 1865, and the arrival of General Granger's regiment, the forces were finally strong enough to influence and overcome the resistance.
Many cities will hold rallies or marches this Friday, June 19th. Check with your local organizations or find ideas for honoring and celebrating here. If you're near Charlotte, you can attend the Freedom March at 1pm, co-sponsored by many local organizations. More information can be found here.
This week, I'll be contacting local government representatives to support the movement to defund the police. This is a concept that seemed crazy to me at first, but after further research and thought, it feels like the only way we can move forward as a society that values all people equally. If you whole-heartedly disagree with me, or feel that it's foolish or disrespectful, I completely understand that! I highly encourage you to watch this short video from the Slacktivists explaining why it works to move some funding away from the police and into our social programs and communities. Maybe you'll still disagree, but I believe it's worth looking into at the very least.
Also quick note: Juneteenth is NOT a national holiday, but Columbus Day, a day which celebrates the person who arguably kicked off the transatlantic slave trade and committed mass genocide, is. So, let's maybe include that in our notes to the government as well.
---
Speaking of getting involved in the fight for justice, it's not just for adults of voting age. In Nashville, teen girls organized a protest with over 10k attendees. Head over to The Lily to read about it, and be inspired about the youth of today turning into the adults of tomorrow.
---
As a longstanding fan of sharks (and a loyal viewer of Shark Week on Discovery Channel), this news makes me very happy. The Canadian government has enacted legislation that protects shortfin Mako sharks, a move that will need to be followed by other governments since Makos are very "migratory." I've learned (from all the education that I've received while consuming every show Shark Week has to offer) that sharks are 1) critical to the ecosystem of the ocean (and therefore to the whole Earth) and 2) in danger, for many reasons.
"We applaud the Canadian government for stepping up to protect one of the Atlantic's most threatened sharks, the shortfin mako," Shannon Arnold, Marine Program Coordinator for Ecology Action Centre, said. "Today's action represents a milestone in Canada's remarkable emergence as a leader in global shark conservation, and one of the most significant steps to date in an urgent effort to save this exceptionally imperiled Mako population."
---
I typically don't watch stuff as soon as it comes out, because I'm always catching up on other shows that I'm behind on. So I feel somewhat on the cusp of breaking news to announce that my brother and I already watched The Lovebirds on Netflix last week. Since my husband Pasan notoriously doesn't like comedies, having my brother in town was a good excuse to watch and laugh with someone.
If you're into comedy, this is what you need to watch! Issa Rae and Kumail Nanjiani are two of my favorite actors and people overall, and they're great together in this movie. It's fast-paced and not too long, and a great way to add some levity to your week.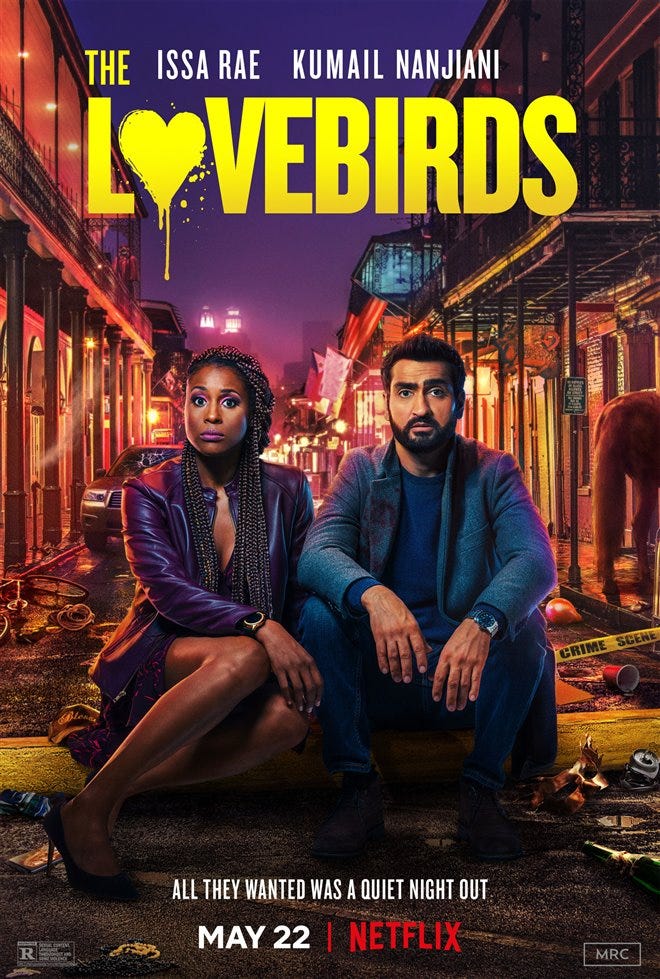 *Image: IMDb
---
In not-new news, you must listen to Scam Goddess with Laci Mosley. It's a podcast all about ways that people are being fooled, and it's somehow super upbeat and hilarious. It was recommended to me by my good friend Amy; I recommended it to Caroline, and now she's binged way more episodes than me and we both continuously have the theme song stuck in our heads. It's a bop.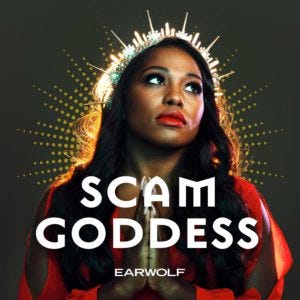 Image: Earwolf
---
Last week, I accidentally checked out the audiobook version of Sometimes I Lie, by Alice Feeney. The accident was audiobook format; the book was on purpose. It turned out to be something I couldn't put down (or pause, rather.) I didn't realize that I dove headfirst into a thriller without making sure that I was listening during daylight hours only. Through an unfortunate series of events, I ended up spending quite a lot of time in my car while dropping my cat off at the emergency vet (he is now fine, trillions of dollars later). This afforded me plenty of time to listen to the book, and I recommend it for fans of thrillers, character-driven storylines, twists, and books that make you think about them for long after you've finished reading.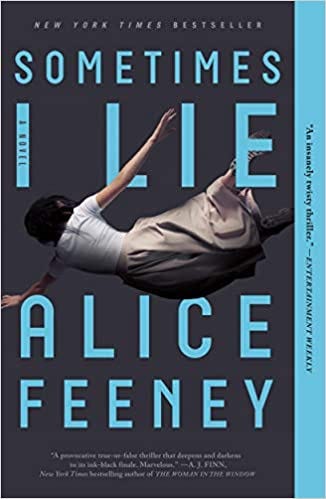 *Image: Amazon (affiliate link)
---
And lastly, we all need rest. Easier said than done though, and sometimes we need something to help quiet our minds from all the chaos of our day, of our lives, or of the world. If you're looking to blink out for a nap or a good night's sleep but unable to relax, have you tried these singing bowl vids? They're entrancing and I can't quite figure out why, but I'm here for it.
---
Thanks for catching up on some Good Things this week! If you enjoyed reading this, I'd love if you shared it with a friend! If you have feedback, feel free to shoot an email to hannah@goodideagirls.com. See you next week!