Issue # 10
good things on a Monday

Happy Monday! I'm so glad you're here! If you're in the Southeast, you're probably ringing water out of your shoes, clothes, and everything around you because we've had consistent rain for what feels like eons. I have high hopes that I can take my kids outside this week instead of letting them look at photos of the sun on an iPad.
Eid Mubarak to all who have just finished observing Ramadan!
This week, I'm doing a round-up of fun things, things to entertain us, and silly articles that work well as brain candy while we're parsing things like the safety of being at a pool this summer. Keep scrolling to find out what's good this week!
---
Good Things Around the Web
In cool news for women (and therefore everyone), Nancy Grace Roman, aka the "Mother of the Hubble Telescope" and the first woman to hold an executive position at NASA now has a telescope (posthumously) to her name!
The Earth-orbiting Roman Space Telescope is designed to carry the torch of space observatories that have come before it. It will survey distant star systems for exoplanets and probe the cosmos' web of dark matter and energy—95 percent of the universe—for answers to some of the most pressing questions in astronomy and cosmology.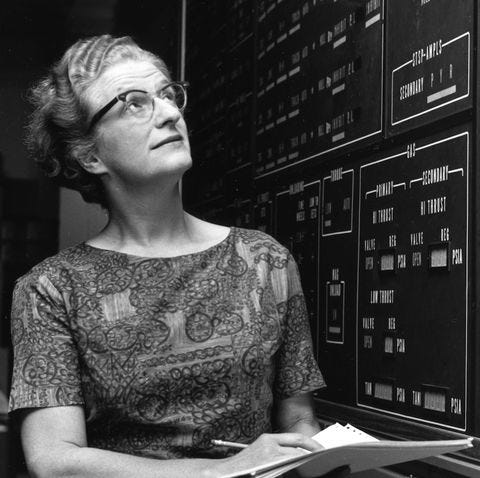 *Image Credit: Popular Mechanics
Probably very low on her overall list of accomplishments but very cool and out of reach for many of us regular people, is that Nancy Grace Roman made it into the LEGO Women of NASA* set one year before her death. I'll be grabbing this for my kids' next gift-giving event for sure.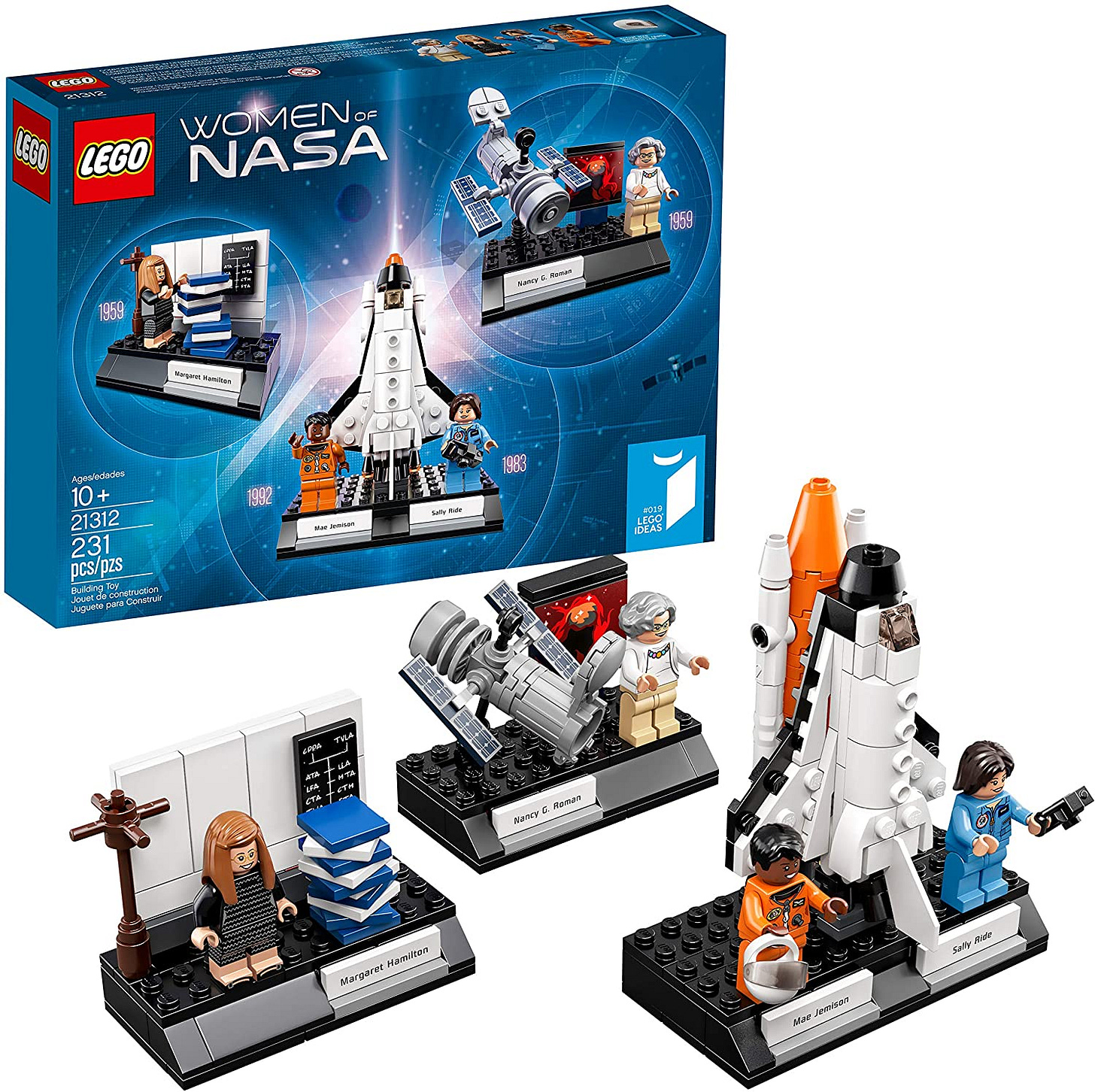 *this is an affiliate link
I know that my family isn't the only one constantly discussing haircuts. The Lily broke down the dynamics around haircuts and relationships, and it's worth a read to find where you and your partner fit in on the scale! So far, my relationship is not remotely strong enough to weather a haircut. While I offer several times a week, my husband is still quite heavily against me coming near his hair.
My 5 year old son has been insisting that his hair remain long, and I couldn't look at him without thinking of the original Justin Bieber side bangs from the "Baby" era.
After seeing him shake his head to the side to clear away his bangs one too many times, I finally pulled up a series of celebrities so that he could pick a new hairstyle and he chose Zayn Malik. So I went to YouTube and pulled up a few tutorials, including the one below, and finally cut my super stylish kid's hair. I'm happy to say that it turned out medium-to-well, and I plan to keep practicing since it's not like he'll be in public anytime soon. Have you taken the haircut plunge with any family members yet?
Sometimes it helps to scroll mindless things on the web that make us feel like we're doing something right with our lives, in contrast to subject X. In this case, that subject is Zara, and Bored Panda is here to point it out. Click through if you want to see nonsensical styling photos that will help you in zero ways to see how a clothing item looks when worn, and also maybe start considering how we can all discontinue the fast-fashion trend.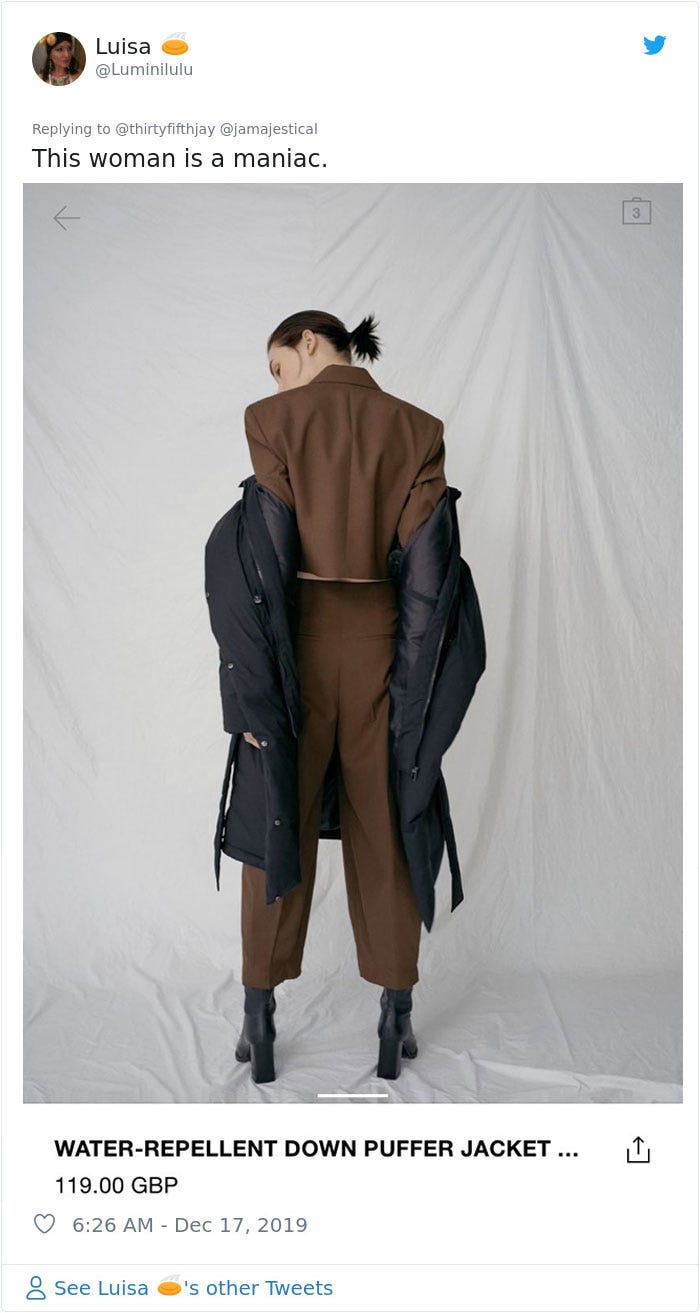 *Image Credit: Bored Panda
---
Good Things to Read
My friend Leslie Stephens recommended The Gone World to me when she was on the podcast a few weeks ago, and it has so far been a slam-dunk recommendation. All day Sunday, I had just 30 minutes left in the book. It was infuriating because all I wanted to do was rush to the end, but I'm finding that small children don't respect the boundary of "stop talking to me I need to finish this book." I was finally able to finish (post-bedtime, of course) and I can safely say that The Gone World has joined Dark Matter as one of my top two favorite sci fi books. Unless we're counting Outlander as Sci Fi, in which case that's also in my top faves list. It's just really intelligently written with complex characters and plot lines that will make me think for long after the book's ending.
I highly recommend grabbing this one if you're looking to get lost in a book that's escapism, but also sort of similar in a few ways to real life. Apparently it's in production to become a feature adaptation, and while I think Tom Sweterlitsch has done a great job at writing a female lead (a rare thing in a male author) they will be doing themselves a huge disservice if they don't bring several women on as writers and creators. I also hope that they choose a lead actress who is an actual amputee.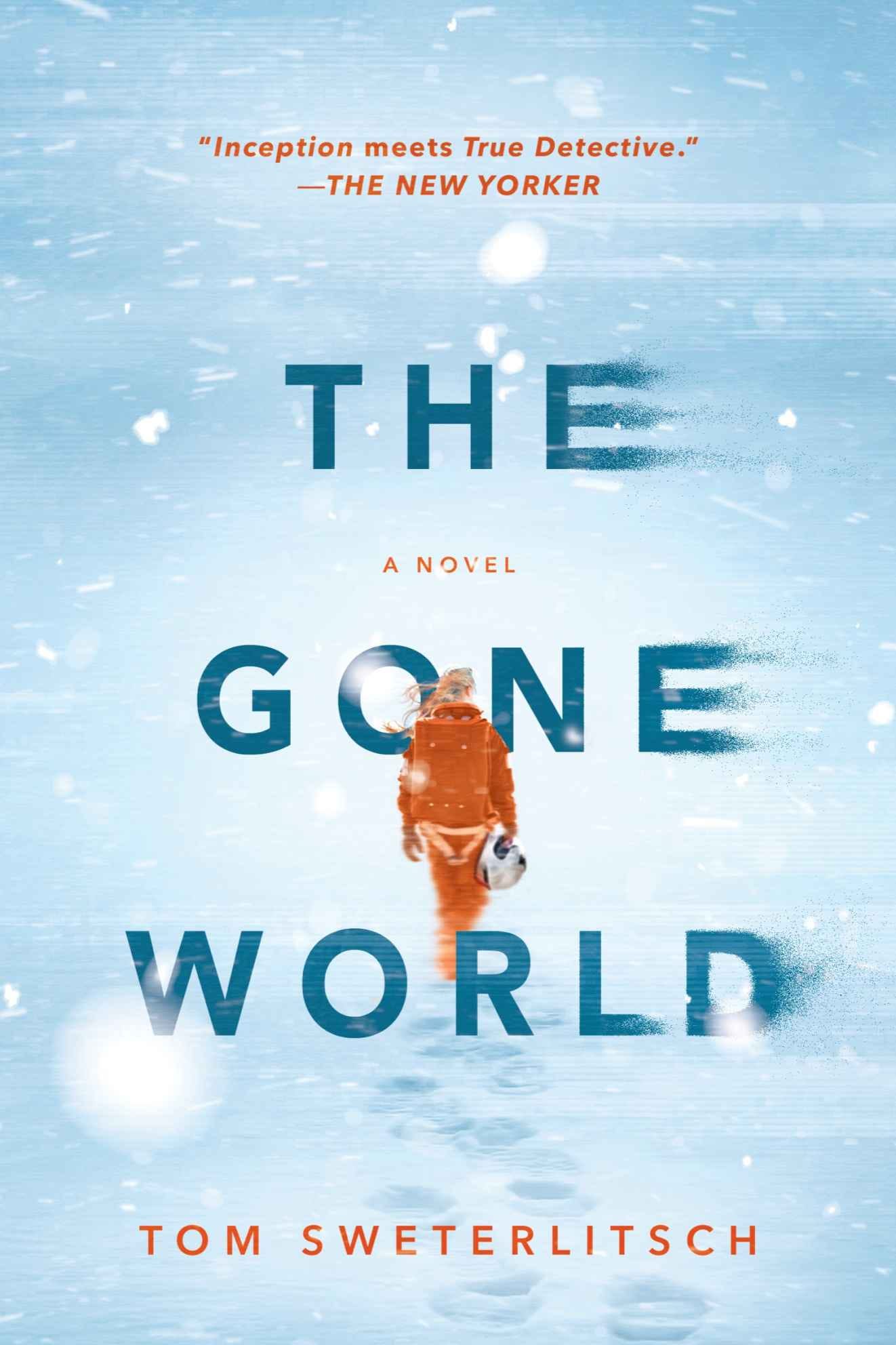 *these are affiliate links
---
Good Things to Watch
It's a weird time for entertainment right now, because never have we had so much content available on demand but also found ourselves re-watching our faves instead of exploring new stuff so frequently. For me, it's because I know what I'm getting into with (for example) Brooklyn 99, and I know how I want to feel. And sometimes you want to know how you're going to feel when you watch a show. So here are my very empathetic reviews of a few tv shows that you might want to sink your teeth into this week. (No spoilers!)
Outer Banks (Netflix)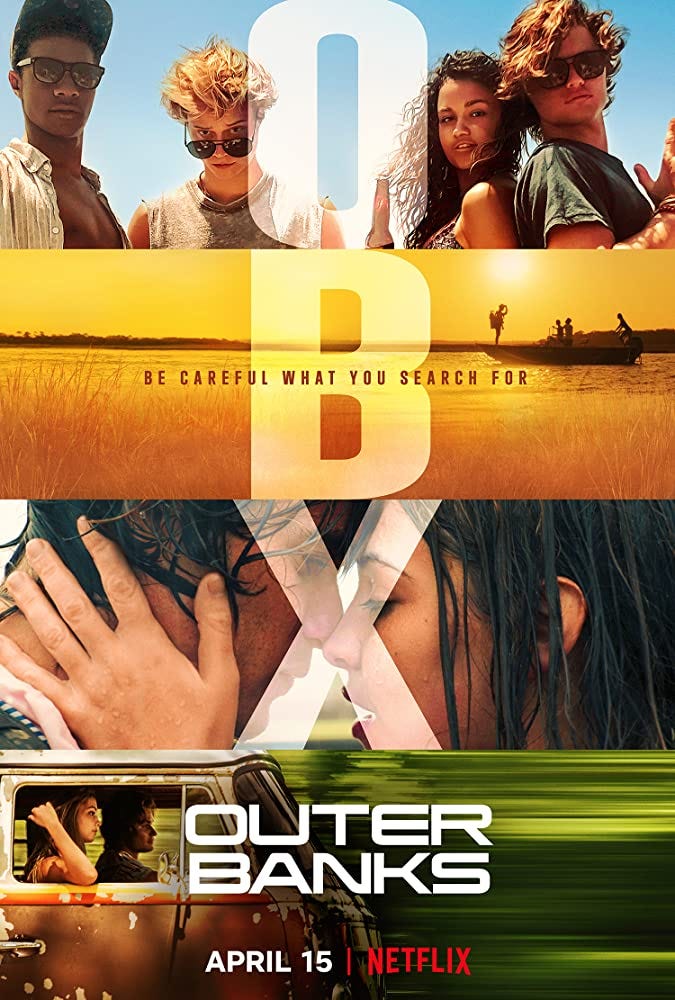 *IMDb
I'm still actively debating whether listing this YA CW-esque show as the first item is the best choice, but here we are. I've found that the older I get, the more I dislike revisiting shows of my youth because I care so little about the drama of children when I can delve into storylines that relate to women who are closer to my age, or have lives similar to mine, or just don't revolve around what is clearly the wrong decision in a question about who to go to prom with.
But my brother practically forced me to check this out. He's in his late 20s, in the Navy, and convinced me to watch Gossip Girl with him when we were in college together. I say all that to say that men and women can all love the same entertainment and I love that he loves soapy teen shows. He convinced my sister in law (from the other side of my family) so then I had entirely too much peer pressure to avoid watching it. Plus it takes place a hop, skip, and several jumps from where I live so I feel somewhat connected to the storyline (for literally no reason.)
Listen: I'm a realist. I know very well that in reality if I witnessed the events of Outer Banks, and by that I mean if I saw youths running around being generally vagrant, I'd immediately be scowling at them and probably loudly insisting that they slow down their car or bike or skateboard or whatever they have. But it entertains me to see it fictionalized, so I guess I'm still a little bit young at heart. And when I recently discussed this with my neighbors, (all also moms in our 30s) we all agreed that it was binge-worthy and a great show. So there's something about it, and maybe it's that it doesn't feel like a show about teens since the actors are closer to my age than they are to high school and seem to exist in a world with no underage drinking laws.
Outer Banks is intriguing and unique and the first episode doesn't end how I thought it would. That alone is enough to keep me interested. And something about the classism draws a bit of a parallel to our current life, where we're all suffering through quarantine and celebrities are instagramming their boredom from their mansions. It made me feel young and a part of a mystery, so that's a big thumbs up.
Dead to Me (Season 2) (Netflix)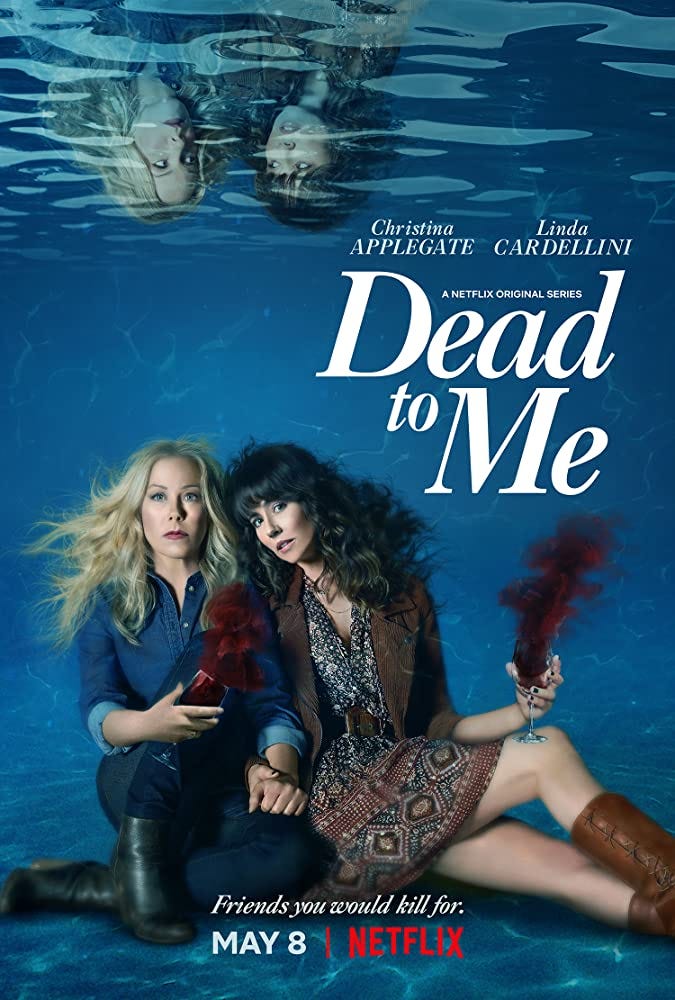 *IMDb
Season 1 of Dead to Me was amazing. So well done, such good acting, and such a great story. I got into the beginning of season 2 and I can't get over how much I feel drawn to each character, even though there are no saints. You feel for the boys, you feel for the main characters, and you die over Christina Applegate's dry, relatable humor and Linda Cardellini's lovable, foolish, trusting character. I can't wait to finish this one, especially because the ending of season 1 was so unexpected!
The Great (Hulu)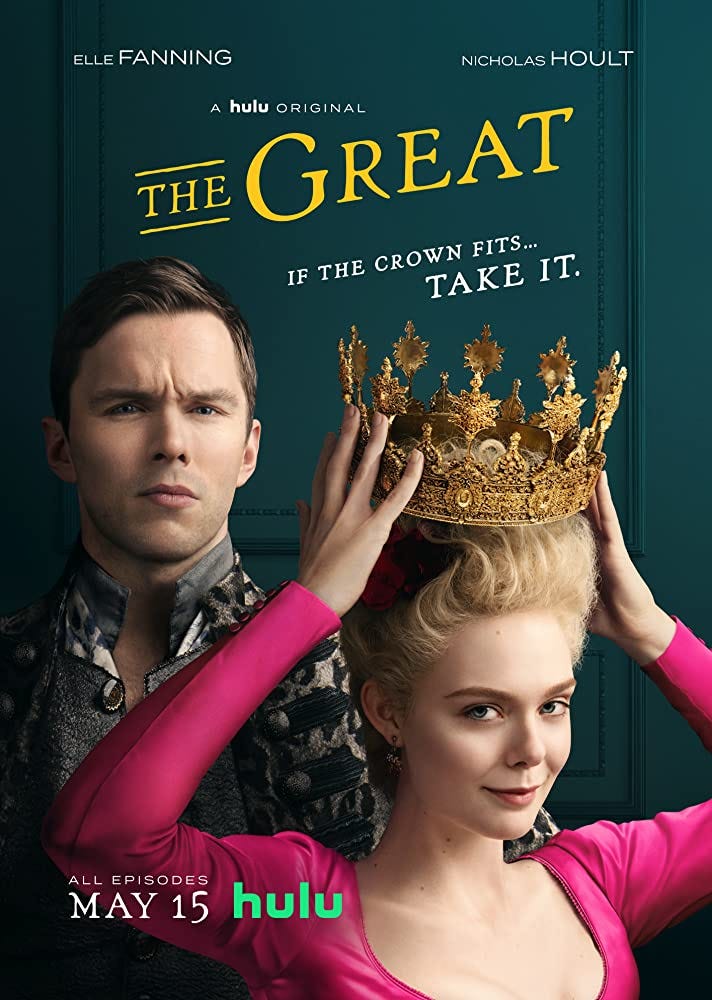 *IMDb
I started episode 1 of this and am intrigued because it's part historical (fiction) and part modern day acting and humor. I'll keep going, partly because I love a story with a good feminist storyline. Bringing levity to a show is a great way to get people to look at history with fresh eyes. So, yes it conquers heavy things, but it doesn't feel like you have to have a pallet cleanser like Friends before you go to sleep.
Normal People (Hulu)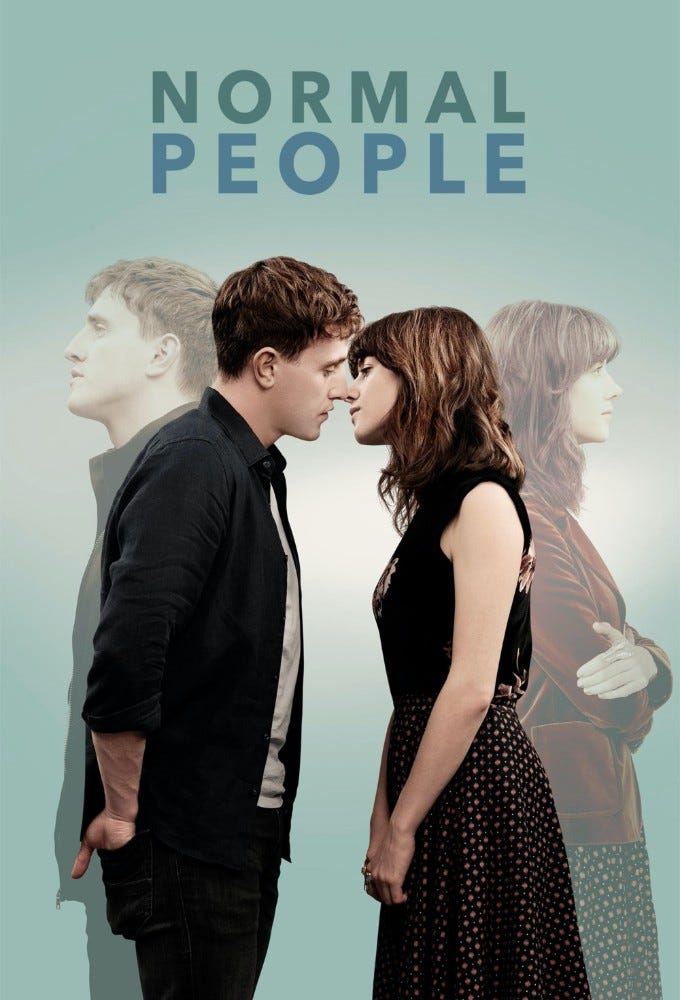 *IMDb
I finished this one last week, but it has stuck with me like a good book. It's heavy, but not so heavy that you don't want to finish. The characters are compelling and complex, and it's a really important deep dive into mental health. It makes you question why you allow people to influence the ways that you feel about yourself.
---
Somethings to make the stoics laugh
My husband Pasan, whom I referenced in Issue # 7, doesn't appreciate most comedy. So when he comes across something that he can't stop laughing at, I assume it meets the criterion of "every single person on this planet will find this hilarious." He's constantly muttering about the ingenuity of teens on TikTok, and has been laughing about this video for several full days.
---
Things to help us chill
I came across this video when looking for relaxing vids with my 3 year old daughter. She was somewhat into it, but I can't get over watching these videos and feeling like I'm one curbside pickup - Michael's trip away from being able to decorate my house with my own original works of art.
---
That's our issue today! Thanks for tuning in, and as always I'd love if you shared Good Things with a friend who could use some lighthearted fun in their inbox on Monday mornings. If you have feedback, input, or just want to connect, you can shoot me an email at hannah@goodideagirls.com, or find me on Instagram @hannahpremaratne. Have a great week!